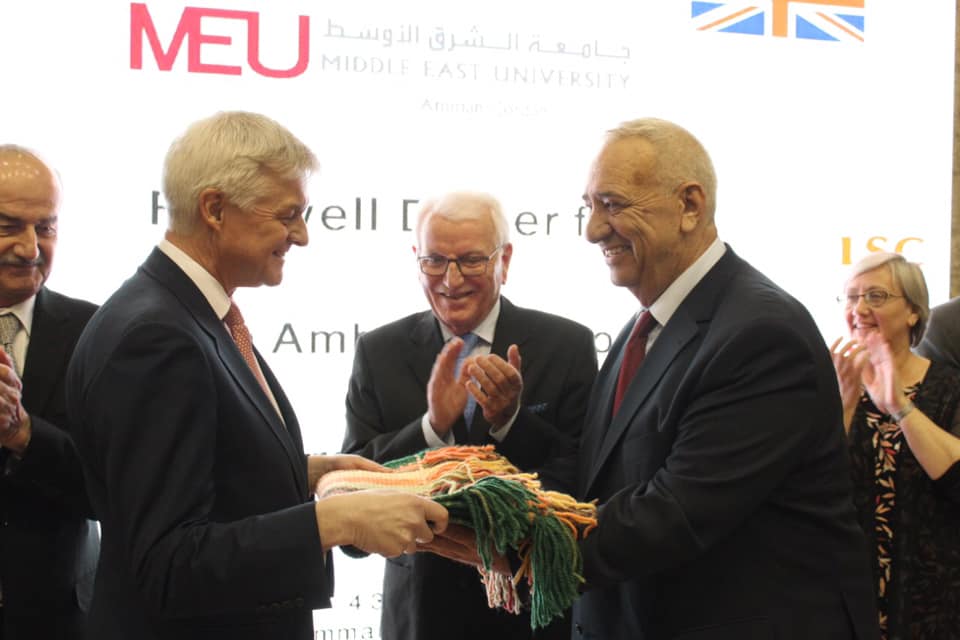 AMMAN – Under the patronage of H.E. the Minister of Higher Education and Scientific Research, Prof. Muhyieddeen Touq, Middle East University hosted a dinner party to honour H.E. the British Ambassador to Jordan, Mr. Edward Oakden, for his work and efforts as he ends his term of office.
The dinner party was held on MEU's campus and was attended by the Chairman of MEU's Board of Trustees, Dr. Yacoub Nasereddin, the University President, Prof. Mohammad al-Hileh, several public and private sector officials, Arab and international ambassadors, presidents of Jordanian universities, and a number of journalists and academics.
H.E. began his speech by inciting the name of God with basmalah, and spoke about the deep relations that Jordan and the UK proudly share. He touched on the UK's commitment to supporting Jordan in all fields related to national security, the economy, politics, and education. He went on to praise MEU for its role in promoting the international exchange of academic expertise and raising the quality of Jordanian university education.
Dr. Nasereddin praised the efforts that H.E. Mr. Oakden made to promote and strengthen the historical and strategic relations shared by the two allied countries during his time as Ambassador, stating, "H.E. played a vital role in fostering Jordan's success through his work on the 'Growth and Opportunity – the London Initiative 2019'. He also helped shape the academic partnership between MEU, the University of Bedfordshire, and the University of Strathclyde, allowing MEU to further pursue its aim of gaining international recognition." He added, "MEU looks to recruit Arab and Jordanian students and offer them the opportunity to earn a  British university education at a Jordanian university, which is how MEU is contributing to the effort towards fulfilling his Majesty's vision for the development of the Jordanian higher education and scientific research sector."
The London School of Commerce Deputy for and the University of Bedfordshire, Prof. David Michael, also took the time to express his delight with the University of Bedfordshire's current partnership with MEU, as he believes that education is the highlight of the cooperative relationship shared by the UK and Jordan. He noted that the Jordanian youth are well aware of how important education is in guaranteeing successful futures for themselves and their country. He also spoke about how he believes that BEDS' current partnership with MEU is bound to offer future university students with the education they need to be prosperous professionals.
At the end of the dinner party, Dr. Nasereddin gifted H.E. Mr. Oakden with a locally-woven carpet in honour of his dedication during his five years of service in Jordan. He also presented H.E. Prof. Touq with the University's honorary shield.