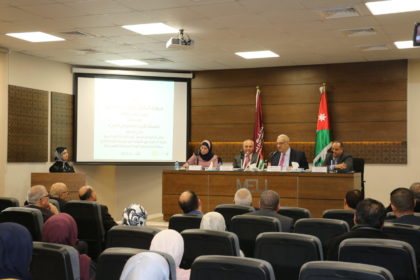 AMMAN – Middle East University held a discussion seminar under the patronage of Dr. Yacoub Nasereddin, the Chairman of the Board of Trustees, titled "The Educational Philosophy in Jordan". The seminar was attended by the former Minister of Education Dr. Fayez Al Saudi, the Secretary-General for Administrative and Financial Affairs at the Ministry of Education Dr. Najwa Qubailat, and the Executive Director of the National Centre for Curriculum Development Dr. Mahmoud Al Massad.
The former Minister discussed the Ministry of Education's philosophy of operation and its relevance to the educational policies, decisions, achievements, and outputs in Jordan. He also added, "The propensity to adopt operational philosophies is not exclusive to the Ministry of Education, as all public institutions should follow suit and apply their philosophies to their standard institutional procedures. As for the Ministry of Education, our philosophy stems from the provisions of the Jordanian constitution."
Dr. Yacoub Nasereddin touched on the challenges faced by the University when it set upon adopting its philosophy to outline MEU's general policy, strategies, and plans. He remarked, "We focused on adopting governance as the basis of all our endeavours, which entails maintaining a spirit of cooperation, transparency, and accountability. This philosophy also allows us to ensure the quality of the University's academic and research outputs, and gives us the motivation to carry out our social responsibility by stressing the significance of cross-cultural exchange and openness."
Dr. Al Qubailat stressed the importance of making kindergarten education mandatory, commenting, "Kindergarten education does not only prepare children for primary education, but it also contributes to advancing students' academic achievements in later years and enhancing educational outputs, promoting their continuous learning."
At the end of the discussion seminar, the participants recommended reviewing the state of public schools in terms of capacity, and discussed the benefits of redirecting students who attend schools that are at overcapacity to ones that have the capacity to accommodate them, as they find that it is vital to provide Jordanian students with a suitable learning environment.