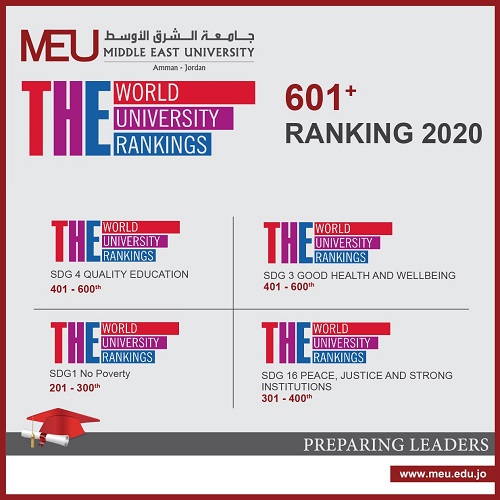 AMMAN – Middle East University earned an advanced position in the Times Higher Education Impact Rankings. This is the second time that the THE Impact Rankings have been awarded to institutions that meet the seventeen Sustainable Development Goals set by the United Nation.
The ranking allows universities to submit themselves for consideration based on the goals that they meet and excel in. The final result is calculated based on their best performances within the realm of four goals.
MEU submitted data for the five goals they meet, which are "No Poverty", "Quality Education", "Good Health and Well-Being", "Peace, Justice and Strong Institutions", and "Partnerships for the Goals". It earned the 601+ position on an international scale.
MEU's newest achievement aligns with its strategy of earning advanced positions in international ranking systems. This is one of a series of successes that has allowed MEU to promote its academic reputation, which in turn improves the opportunities its students will have upon entering the job market and allows MEU to attract excellent faculty members. MEU aims to be internationally acknowledged for its teaching, research, partnerships, and its management of the educational process. It maintains a green university environment that has been commended on regional and international scales.