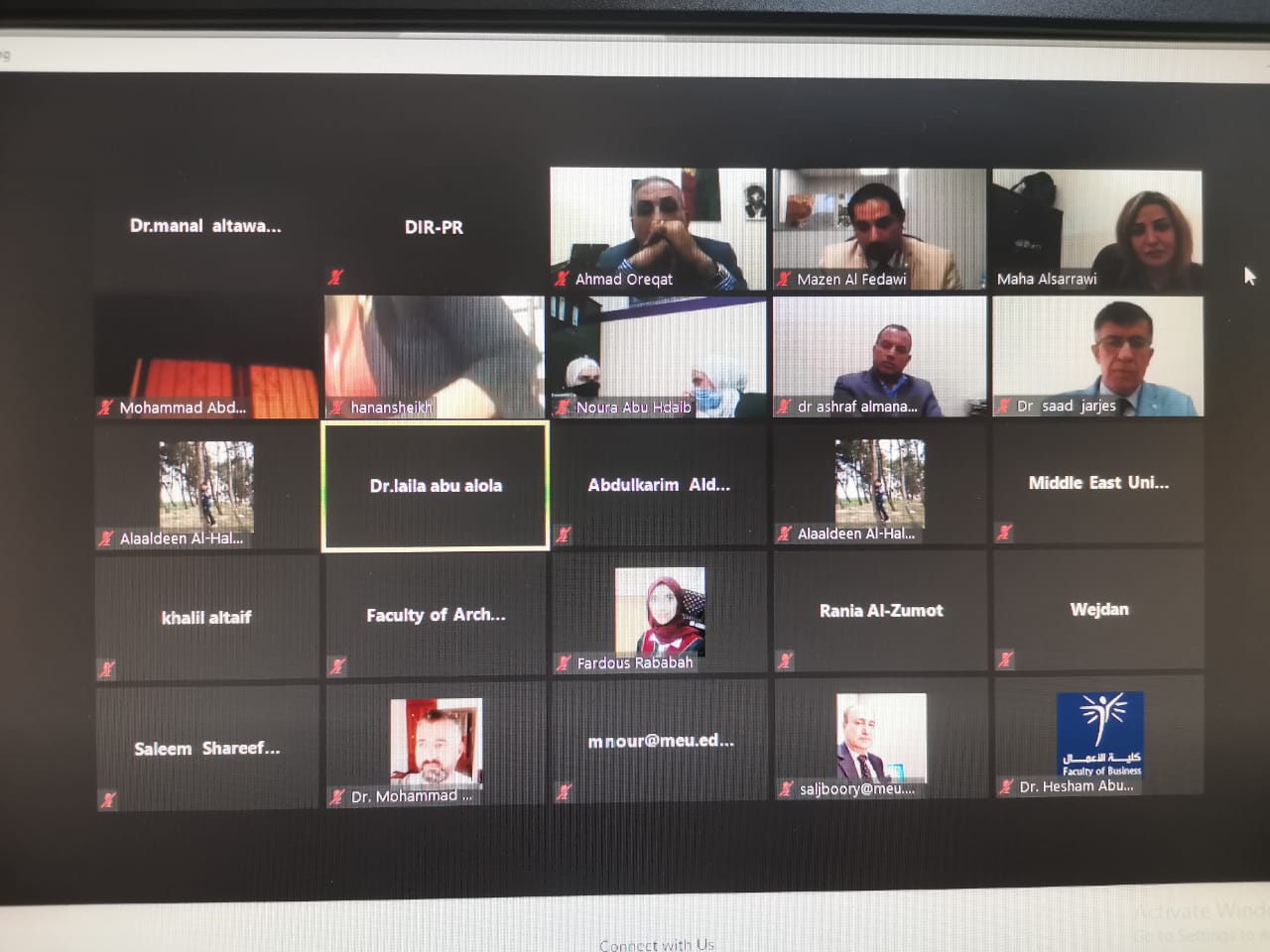 AMMAN – Middle East University's President, Prof. Ala'aldeen al-Halhouli, held an online meeting with MEU's faculty, with the attendance of vice presidents and deans, to congratulate them on the beginning of the new academic year and discuss the teaching methods to be followed throughout the 2020/2021 academic year. The University President also reviewed the outcomes of the meeting H.E. the Minister of Higher Education and Scientific Research, Prof. Mohammad Abu Qudais, held with presidents of Jordanian universities, which focused on the research output of Jordanian universities, especially in light of the Coronavirus pandemic.
Prof. al-Halhouli listed MEU's set objectives for the upcoming stages, including expanding the university's research efforts and focusing them on national priorities and local community issues. He urged faculty to periodically publish research in Scopus-covered journals, and called upon faculty deans to put international accreditations and rankings on top of their operational agendas. He also stressed the need for establishing local and international partnerships with academic and research institutions, and promoting extracurricular activities for students and communication with the local community.
Prof. al-Halhouli said that H.E. Prof. Mohammad Abu Qudais called on Jordanian universities to develop their distance learning systems, and work on delivering an interactive learning experience using online learning platforms. Prof. al-Halhouli also directed faculty to abide by lecture times announced to students via the university's LMS and MS Teams, and upload recorded lectures and materials on the university's cloud storage.
H.E. Prof. Abu Qudais encouraged universities to find proper mechanisms and tools to teach practical courses, as they pose the biggest challenge to the distance learning experience. He highlighted the Ministry's efforts to provide students with laptops and resolve their internet connection issues, especially in rural areas, and urged universities to keep in touch with their students and communicate their opinions and suggestions to the Ministry. He also confirmed that the Council of Higher Education gave university presidents the freedom to organise faculty's on-campus attendance based on necessity.
The Minister also discussed the mechanisms for conducting examinations, which entailed holding examinations for specialisation and core courses on-campus in a manner that ensures students' safety.