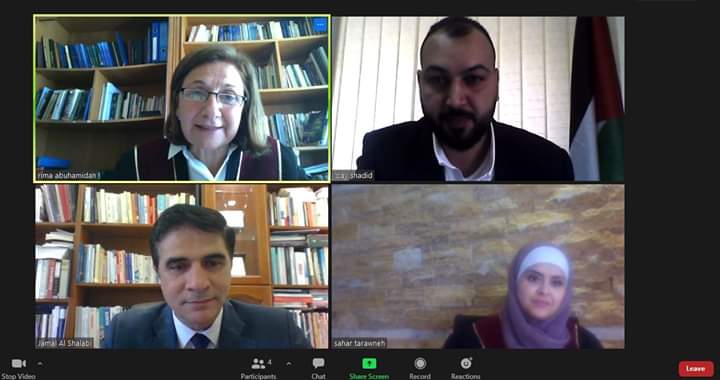 AMMAN – Researcher and Faculty of Arts and Sciences student Loai Sa'eed Shadeed defended his Master's thesis, titled [the impact of financial aid granted by donor countries on Palestinian national solidarity between 1988-2020], via telecommunications.
The researcher investigated the amount and source of international aid given to the Palestinian people, and the hidden agendas lying behind it. Mr Shadeed addressed the impact of international aid on national solidarity between the years 1988 and 2020. He theorised the existence of a relationship between international aid given to the Palestinian people and the strength of their national solidarity. Despite the shy donations granted prior to 1994, since that year and until the end of 2017, the international aid granted to the Palestinian people amounted to 36.5 billion dollars.
The researcher recommended adopting a unified policy and approved strategies to protect the rights of the Palestinian people, especially in standing against Israeli violations. He also proposed achieving a state where the Palestinian people would no longer be in need of international aid.
The thesis defence committee presiding over this project consisted of Dr Rema Abu Hmedan, as Mr Shadeed's supervisor and head of the committee, Dr Sahar al-Tarawneh, as the internal MEU evaluator, and Dr Jamal al-Shalabi from the Hashemite University, as the external evaluator.