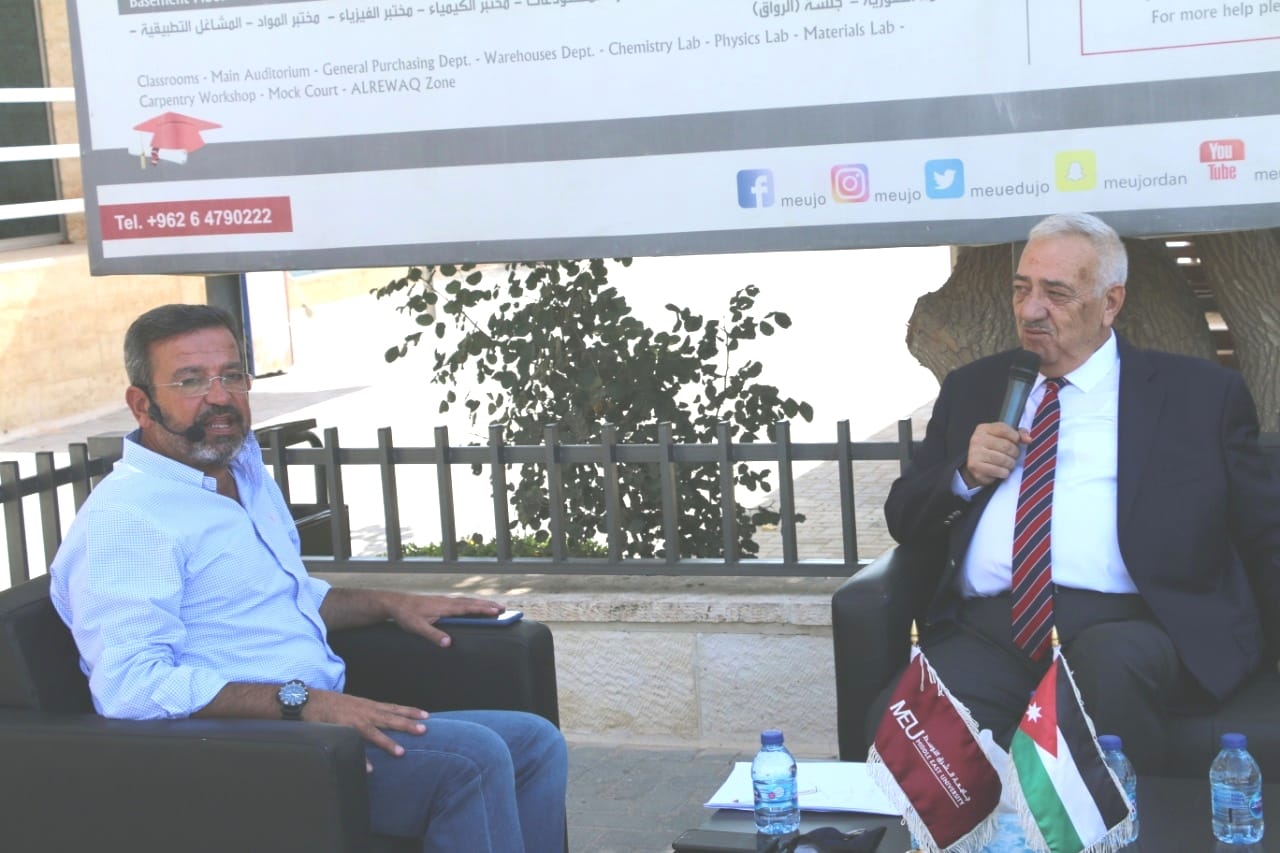 AMMAN – The Chairman of Middle East University's Board of Trustees, Dr Yacoub Nasereddin, was hosted on the morning radio show 'Wast al-Balad', aired live on Radio Fann from the MEU campus and presented by media person Dr Hani al-Badri, who is a faculty member at MEU's Faculty of Media.
In his interview, Dr Nasereddin said that the University¾since its foundation 15 years ago¾has always been capable of adapting to all emergency circumstances. He highlighted MEU's efficiency in keeping pace with the developments being made in all fields of knowledge and science, and pointed out to yet another success in handling the implications of the Coronavirus pandemic on higher education.
Dr Nasereddin stated that MEU had a successful distance learning experience, as the percentage of student attendance via online platforms exceeded 97%. He reassured the listeners of the University's preparedness to overcome all obstacles based on thorough planning and not mere provisional emergency response.
Dr Nasereddin pointed out that MEU proved to be an efficient host to programmes offered by international universities, which is testimony to its systematic future envisions for adapting to surrounding circumstances. These programmes have allowed Jordanian and Arab students to enjoy the quality education of formidable universities.
The University President, Prof. Ala'aldeen al-Halhouli, introduced the University's faculties and departments, and spoke about the newly-founded programmes that are aligned with the latest developments being made in technological, industrial, educational and pharmaceutical fields.
Dr al-Badri also interviewed a number of faculty deans who discussed the importance of finding new programmes, especially at the faculties of information technology, pharmacy and business. They shared the approach the University followed in establishing these programmes, which entailed conducting a ten-year feasibility study and taking into consideration the findings of rigorous research. They also confirmed the said programmes' fulfilment of quality standards, and made clear the University's intent on competing with local and international counterparts.