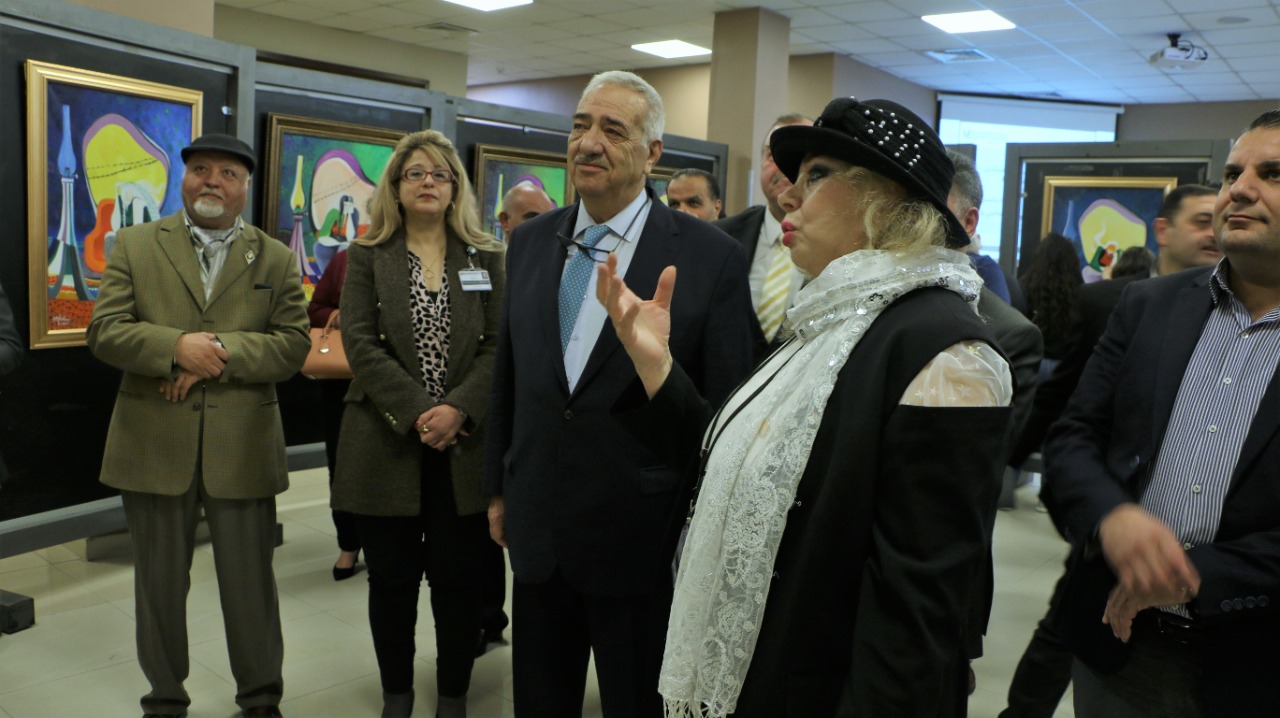 The Chairman of the Board of Trustees at Middle East University, Dr. Yacoub Nasereddin, opened the art gallery held by the Faculty of Architecture and Design, on the occasion of Al Karameh Battle Memory, Women's Day and Mother's Day to display art works of Dr. Ansaf Al Rabadi and Dr. Ahmad Abu Hani, from the Faculty; in the presence of the Chairman of the Board of Directors, Dr. Sana'a Shaqwara, MEU's President, Professor Dr. Salam Khalid Al Mahadin and Dean of the Faculty of Architecture and Design, Dr. Nabhan Qasem.
Dr. Rabadi displayed the artistic works at the gallery, which will continue for one week, representing several social causes related to worldwide celebrations of Women's Day and Mother's Day. Those paintings embody feelings related to motherhood and ability to move forward toward further achievements; side to side with othjer paintings showing cultural diversity and touristic sites in the Kingdom.
Dr. Nasereddin admired the artistic works with emphasizing that this gallery represents the highest level of arts, documenting meanings of humanity and morality; reflecting various aspects of Arab women's life and our homeland and documenting the related features, through creativity of artists to reflect the contemporary realistic art school style.
The gallery reflects the style used by Dr. Abu Hani and Dr. Rabadi, where the first relied on the style of building reality, concerned with drawing nature scenes and mixing by using water colors, to give these scenes a more silent realistic aspect; while Dr. Rabadi used the abstract technique, blending colors to reflect reality, human nature, motherhood and dignity.
At the end of the gallery, Dr. Rabadi presented the painting "Tree of Life" to Dr. Nasereddin and the painting "Family Tree" to Dr. Shaqwara; as well, Dr. Abu Hani presented a Personal Portrait to Dr. Nasereddin.