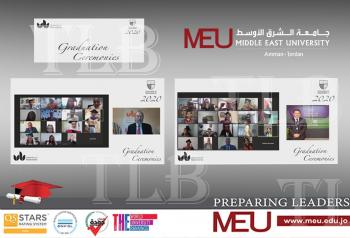 The University of Bedfordshire hosted on Middle East University's campus in Jordan celebrated on Wednesday the graduation of its 2019/2020 class via telecommunication.
The Vice Chancellor and Chief Executive of the University of Bedfordshire, Professor Rebecca Bunting, gave a speech on the occasion, joined by the President of the Students' Union, with attendance of students and faculty. The 2019/2020 class consists of Arab and international students who graduated from various academic programmes.
The University of Bedfordshire is the first British university to be hosted on a Jordanian university's campus. It offers a wide range of programmes taught on the MEU campus, and awards internationally accredited Bachelor's, Master's and PhD degrees. BEDS in Jordan contains four schools; the Business School, the School of Science and Technology, the School of Media and Performance and the School of Art and Design. They offer the following programmes respectively; Accounting, Financial and Banking Sciences, Marketing, International Business, Cyber Security, Multimedia and Public Relations and Graphic Design.