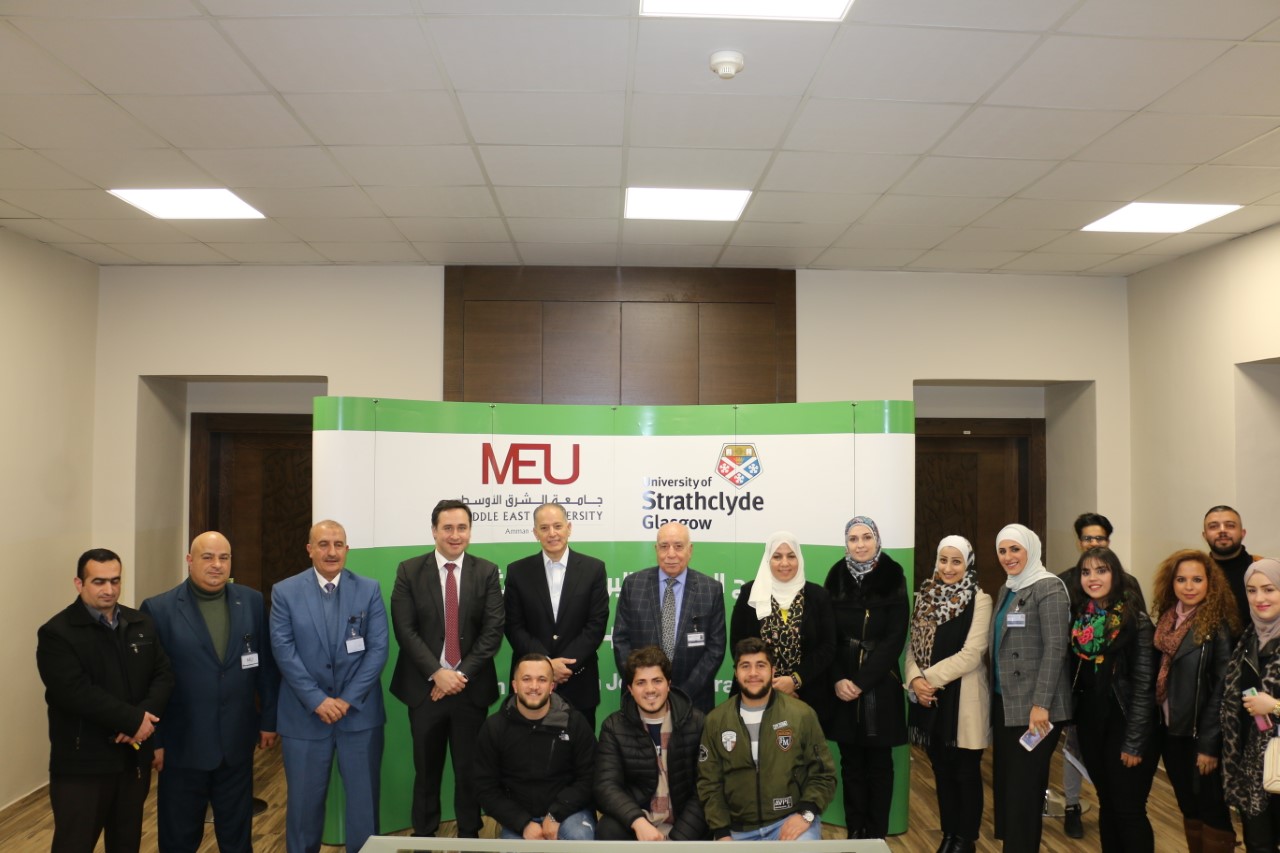 AMMAN – Dr. Amjad Aryan, the President and Founder of Pharmacy One, stressed the importance of education and its role in producing future leaders who will bring distinction to the fields of pharmacy and entrepreneurship. He also spoke about the qualities that distinguish successful leaders from others, and touched on the importance of competent and effective leadership when it comes to the success of any business project.
Dr. Aryan was hosted at Middle East University's Faculty of Pharmacy during the second Educational and Scientific Season, where he stated, "Strong leadership has led to the evolution of the field of pharmacy as we know it, proving that traditional operational methods are not the only way to find success in the pharmaceutical industry." Dr. Aryan also added, "We are now witnessing a rapid rate of development that we've never experienced previously thanks to the new industry-standard modern technology being used to bring the pharmaceutical industry into the future. These advancements only provide pharmacists with more of an incentive to develop their creative skills and apply them to the way that they approach their pharmaceutical practices."
The meeting was attended by the Dean of Pharmacy Dr. Ammar Al Maaytah, a number of MEU faculty members, and a large group of students from the Faculty of Pharmacy.
Dr. Aryan said, "Clinical pharmacists and doctors of pharmacy play a vital role in bearing professional and national responsibilities. They must maintain a holistic relationship with doctors, nurses, and all other medical staff in order to provide patients with the best healthcare they can provide." He remarked, "Pharmacists must be a reliable source of accurate pharmaceutical information. Therefore, pharmaceutical curricula should focus on instilling future pharmacists with honourable values, visions, and goals."
While answering student questions, Dr. Aryan urged universities to produce pharmacists who are capable of overcoming all obstacles and have the leadership capabilities to help continue the upward trajectory that the field of pharmacy is currently experiencing. He commented, "We must promote the role of the youth in all decision-making processes and give them the responsibilities that will help them grow professionally." He also called upon students to enroll in pharmacy majors with modern curricula so that they can seize new professional opportunities.
Dr. Aryan obtained his BSc in Pharmacy from the Massachusetts College of Pharmacy and Health Sciences and is an ALI Fellow at Harvard University. He is the founder of Pharmacy One, Jordan's largest pharmacy chain and the first regional pharmacy chain in the Middle East. With its 105 branches spread across the Kingdom, Pharmacy One currently employs around 1000 Jordanian professionals.
MEU's Faculty of Pharmacy regularly hosts experts in the field of pharmacy and medicine and invites them to speak to students about their professional experiences, giving students the opportunity to benefit from the expertise of entrepreneurs and leaders in the field.