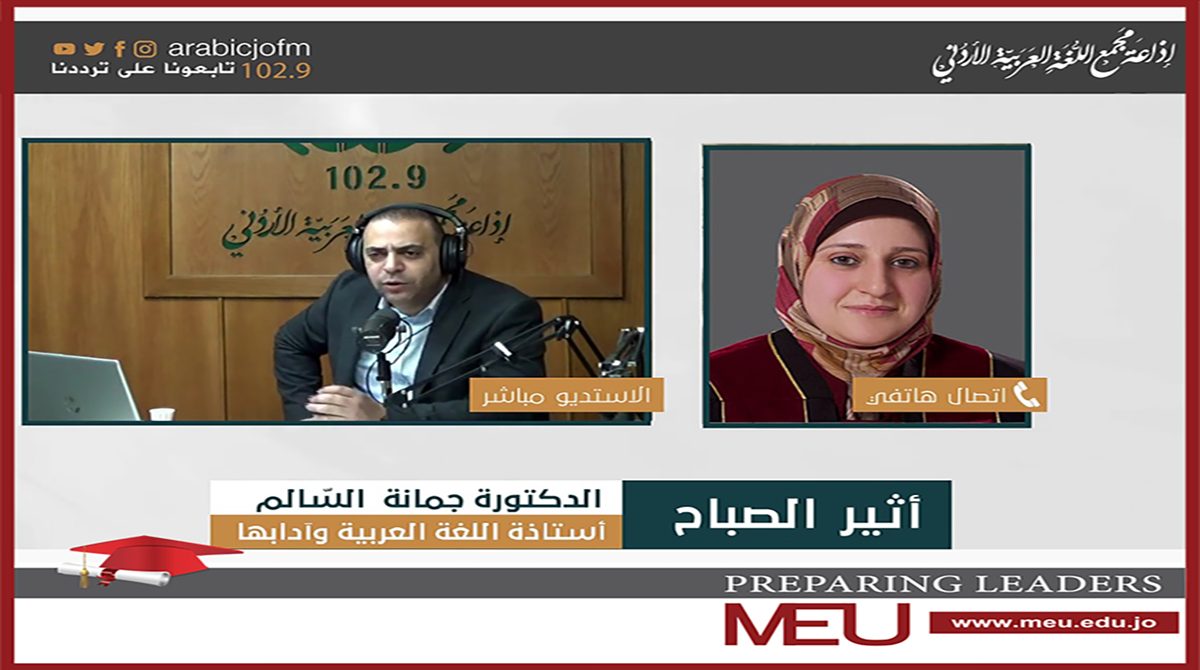 Dr. Jumana Al-Salem, Member of the Faculty of Arts and Sciences in MEU, addressed through Majma FM the heroes of e-learning, praising their ability to withstand the circumstances imposed on them by the pandemic and its repercussions in Jordan and the entire world. Her message was broadcasted on Atheer As-Sabah during an interview with Sameer Masarweh.
The heroes Dr. Al-Salem referred to are those officials who came up with quick solutions to avoid halting the educational process after the pandemic compelled authorities to close schools and universities. This solution, which constituted of transferring the educational system to e-learning platforms, is still considered a challenge for those officials, who are allocating for it all possible material and human capacities that can ensure its continuity under the current circumstance, without undermining its quality.
Dr. Al-Salem also praised teachers at schools and faculty members at universities, as they have accepted the challenge and withstood the difficulties incurred by a novel form of learning that many of them might not be familiar with. She also greeted the students who discovered that their electronic devices, which they had been using for entertainment and leisure, have become the ideal method for learning and communicating with their teachers. She also addressed the parents and families of students, who were compelled to support their children's education from home morally and financially despite the fact that many of them have limited experience with technology or teaching and closely following up with their children's learning.
Moreover, Dr. Al-Salem discussed the third International Day of Education, which was marked on last 25 January 2021 under the theme "Recover and Revitalize Education for the Covid-19 Generation", and was planned along three main segments: learning heroes, innovations, and financing. She stressed the necessity to continue developing e-learning systems and innovating solutions to make them effective and fruitful. In addition, she pointed out the importance of financing the projects that support this decision and enabling the circumstances for such form of learning; especially that it revealed during earlier phases gaps and failures that cannot be denied or ignored and that are becoming more significant as officials are compelled to come up with solutions for such hindrances. The ideal scenario would be to create flexible educational systems that challenge circumstances, meet needs, and withstand emergencies.
It should be acknowledged that MEU has been diligent since the beginning of the Covid-19 crisis to adapt to the e-learning experience, while keeping up with its vision for education and demonstration a profound commitment to the role it is entrusted with as one of the leading educational institutions in Jordan. What is more, this experience proved to be successful on all levels considering the circumstances, as with many other experiences that MEU was able to undergo and survive while maintaining the highest standards of excellence in this area and in others.