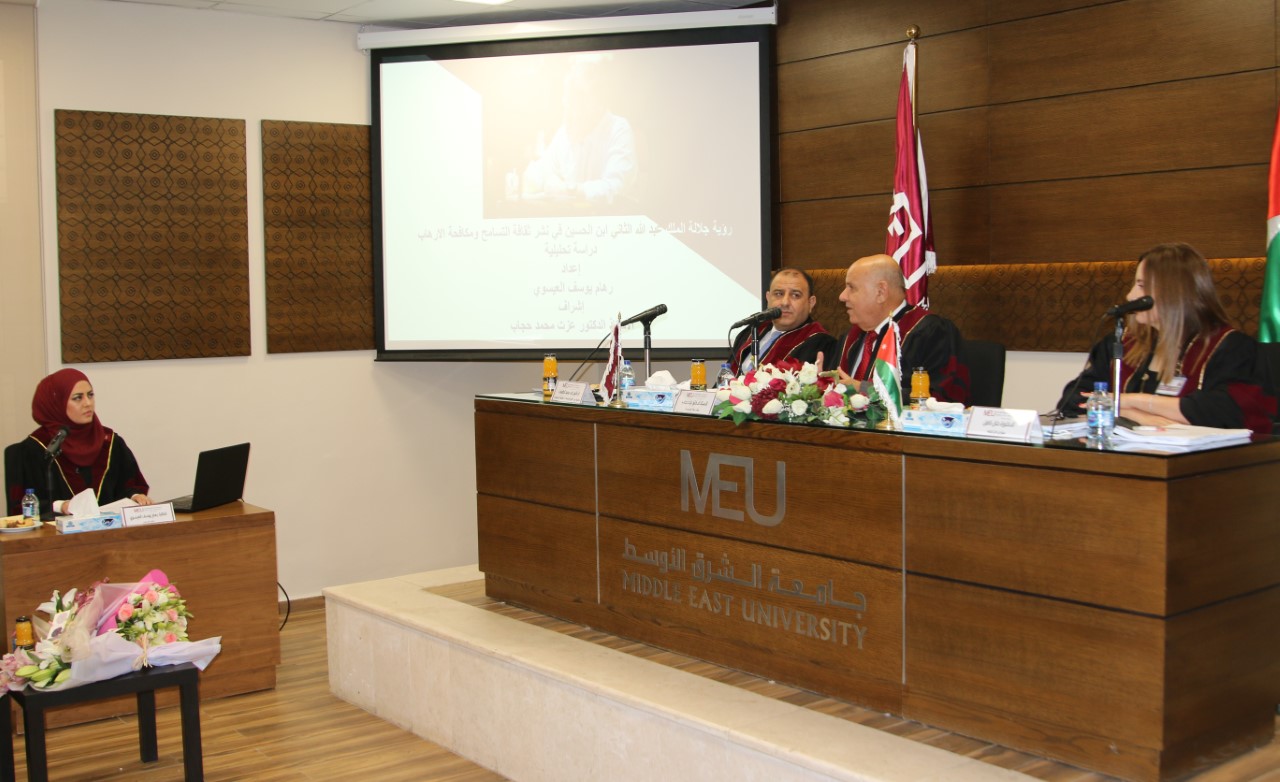 AMMAN – Researcher and Faculty of Media student Reham Yousef al-Isawy defended her thesis, "His Majesty King Abdullah II bin al-Hussein's Vision for Promoting Tolerance and Combating Terrorism – An Analysis".
The researcher highlighted his Majesty King Abdullah II bin al-Hussein's vision for promoting tolerance and combating terrorism by adopting the descriptive method and scanning related content. She analysed his Majesty's said vision to deduct embedded meanings and denotations.
The researcher concluded that his Majesty believes terrorism to be the biggest threat to local and international peace and stability. He sees it as an attempt to paint a negative image of Islam, as his Majesty describes the war on terrorism as a third world war, differing only in the tools used to carry out the fight. The researcher found that victory is still a long way ahead and requires a clear and comprehensive methodology, as she referred to his Majesty's directions to cement our spiritual values such as tolerance, mercy, compassion, and mutual respect.
The researcher recommended adopting the royal vision as a response to terrorist acts being carried out on regional and international scales. The said vision was thoroughly studied and reviewed, setting a work plan for dealing with local cases of terrorism and spreading the culture of tolerance.
The thesis assessment committee presiding over this project included the Dean of Media at MEU, Prof. Izzat Hijab, as Ms. al-Isawy's supervisor and head of the committee, Dr. Hanan al-Shaikh, as the internal MEU evaluator, and the Dean of Media at Yarmouk University, Dr. Khalaf al-Tahat, as the external evaluator.